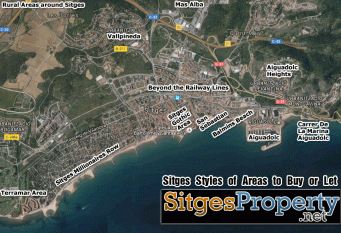 MAJOR AREAS

MAJOR AREAS DESCRIBED
(future sites for each area)

This is a largely developed area a short distance from Sitges Town and the Beaches,

It represents a high class area, with community tennis courts and entrance security.

Accommodation varies, with a wide range of apartments and houses (villas).
Some with views across Sitges to the sea.

Roads can be hilly and transport can be patchy.
Though many places have underground parking, as road parking can be limited.

Mas Alba is 10 mins from Sitges Town and the Beaches.

It represents the biggest area of development (still the wild west!)

With various sized plots and gradients.
Legalising the development has been under way and whilst successful, caution is advised.

Across the majority of Eastern Sitges, locals and workers benefit from lower rents and more space, on the opposite side of the railway tracks from the beach and main town.

There are plenty of shops on the main route travelling through the area, running paralell to the train line.
Along with a commercial area, just beyond the C32 motorway, at the edge of town.
Just before the road to Mas Alba

Terramar is at the furthest reaches of Sitges Bay to the West.

At the edge of the Cuban Millionaires housing, with many into vast sums.

It is dominated by a prestigious apartment complex, popular with retirees.

Cuban Area is a typical nickname for these kinds of area.

However this district runs from the first road along the promenade (first line), to many roads back.
All filled with sizable houses (villas), apartment blocks and occasional Hotel.

Few have sea views after the beach front properties, due to their size, but most are in walking distance to the beach.

Many have parking, as street parking can be at a premium, especially during summer. Plus many roads have visitor parking and ticker machines.

Space is tight amongst this original part of town.

Where being amongst the action, delegates views from the available features.
However whilst often compact and darker, plenty of apartments have roof terraces.
And inner views over courtyards.

Residents are surrounded by cafe, bars, restaurants and shops.

A lovely bay, made up of a pedestrian area (formally a typical road with pavements either side), in front of a wide selection of bars and restaurants, with residential accommodation (apartments) above.

With a small beach, below.

Apartments, either overlook the sea to the front or the courtyards behind.
Often on the smaller side, as building are pretty slim.
But with some larger ones at the eastern end, opposite the small playground and church forecourt.

Making for a busy environment during summer and a very quiet scenario, during winter.

Many roads peel back from the beach all the way to the railway track, in front of the road to the main town and railway station. With lots of apartments and occasional house (villa).

Most without sea views, but within easy walking to the beach and some with courtyards and pools.

An area runs from Balmins beach back to Carrer D'Emerencià Roig i Raventos. Next to the railway line.

Front line apartments can have amazing view across the bay, over Balmins beach, towards the church and Sitges Bay.

Whilst overs look out to sea from 'Carrer de Ramón Planes'.
Where there are various apartments and a selection of houses (Villas) with front gardens, at the cemetery end.

One row back, across gardens and swimming pools and sizable apartment blocks back onto the train line.
With noise of passing trains, even though the trains are in a culvert, out of sight.
But with some fantastic views from roof terraces, some five floors up

Alternatively property inside Aiguadolc itself, are often cheaper
To the East there is Carrer De La Marina Aiguadolc beside a sizable beach(but near to a railway line)
Aiguadolc Heights above Sitges marina has pricier and often superior apartments and houses (Villas)

A development within Sitges Marina (port de Sitges Aiguadolc).
With it's small supermarket (corner shop prices), restaurants, Disco & many Bars.

Along with a sizable beach to the East next to the community at Carrer De La Marina Aiguadolc.
To the West there is a another family but nude beach.

The large group of properties can be well priced for their location in a marina.
As either they overlook the boats, but across an often busy parade of restaurants or overlook other properties.

A few roof terraces provide a wide or partial view across the Aiguadolç bay.

Accommodation can be compact and some are within earshot of the Pacha disco, with music onto dawn. Although they tend to try and keep their windows closed to minimise disruption.

There are also Port Concerts during summer (which can be a bonus or not!)

Aiguadolc Heights can describe the roads above Sitges marina, which has pricier and often superior apartments and houses (Villas).

And Balmins Beach on the other side of the Marina

A selection of properties sitting in roads above Sitges Marina (port de Sitges Aiguadolc).
With it's small supermarket (corner shop prices), restaurants, Disco & many Bars.

The large group of properties can be pricey compared to those with the marina, Aiguadolc
Especially the large apartments or whole houses (villas).

Many overlook a wide or partial view across the Aiguadolç bay and the boats.
Some with substantial roof terraces

Many have parking underground, as road parking is free but at a premium. Especially during summer and et either end.

To the East with a sizable beach next to the community at Carrer De La Marina Aiguadolc.

And to the West, where there is a another family (optional nude beach) and lots of nice property at Balmins Beach

This area can be regarded as extending far to the rear into the hills behind. By the nature of it's property stock.
With big 'sometimes palatial' properties, many apartments, almost all with sea views, if facing front. But cheaper than those immediately above the marina, next to the sea and beaches.

Private complex located on the seafront, just meters from sizable beach next to Sitges Marina (port de Sitges Aiguadolc). With it's small supermarket (corner shop prices), restaurants, Disco & many Bars.
But with a railway line close by.

The Community (condominium), with access via a magnetic key, has:

2 Swimming Pools
Grass Gardens
2 Tennis Courts
Children's Area
Parking

The development has wide range of apartments, up to duplex penthouses.

Some over look the sea with a view first line, others in the second line manage a similar part view and others overlook other roofs.

Others overlook the complex gardens and pool to the rear, along with Sitges Hills, which has a mix of property and land.

Past a busy railway line at ground level.
Which can be heard from most properties and roof terraces, especially the ones to the rear.

Inside Sitges Marina, Aiguadolc itself, is a close alternative with another often cheaper community

Or Aiguadolc Heights above Sitges marina has pricier and often superior apartments and houses (Villas)

And Balmins Beach on the other side of the Marina
A Sitges town garden or terrace, on a budget?
Q: Hi everyone, places to rent or share in or around Sitges.
I'd like to be closer, for social life, but also for setting up an 'eco-design learning centre' with a small botanic garden: a collection of outdoor orchid plants which need good sun in the winter.
All within a limited budget
It's a challenge that needs some creative networking!
A: Welcome.
You can be further out on the hills surrounding Sitges and get both a distant town/sea view and terrace, relatively cheaply.
.
Anywhere with a short walk to the action, in Sitges, will be obviously costly. Especially if you throw in a decent view… and lots if a sea view.
As many in town have no view, as they overlook other properties/walls a few feet away!
Some with a small balcony (presume you dream for more than a window ledge in the sun :).
Getting a proper terrace, can happen, by choosing a cramped location, but where you have the roof (with views or not). Suitable for lots of plants. Cheapest overlooking other roofs/no real view.
For an outside area, I would look at Port D'Aiguadolc (SitgesMarina.com). As whilst it's a cramped development, hence often cheaper than one would imagine, there are some gems there.