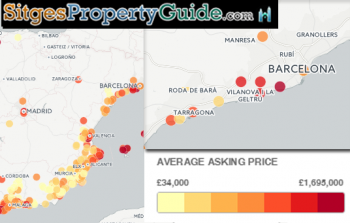 Data from Kyero – BIGGER MAP HERE
Sitges remains highly priced

Average property price €675,000
March 2015/16 = 17.4% increase in number sold in Sitges
(2017 : now 29% increase in number of sales)
Approaching 10% increase on prices (8.6%)
14,425 sold in 2nd quarter of 2016 (March to May)
Market activity 46% below its peak in 2006 (BCN)
12.7% buyers are foreign
| Property type | Average price |
| --- | --- |
| 2 bedrooms | €435,000 |
| 3 bedrooms | €495,000 |
| 4 bedrooms | €720,000 |
| 5 bedrooms | €1,040,000 |
Based on the median asking price of all property in Barcelona province listed at Kyero.com.
28,269 people – grown by 8,821 (45%) since 2000:
(includes Garraf, Les Botigues, Sitges and Vallcarca)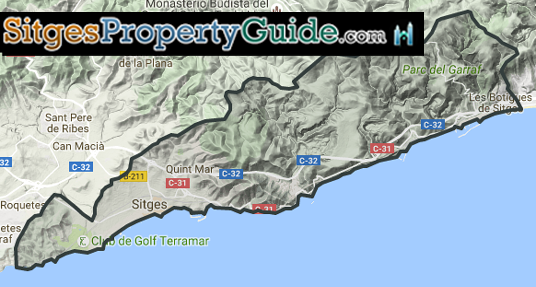 Average 300 sunny days a year – 259 are dry
Where to Buy – Lowest Property Prices around Spain
Unlike the UK Spanish prices remain lower than before.
Cheapest averages South from Sitges
Unemployment and debt levels still high, dampening activity, as has the sterling exchange rates.
Through Spain is improving better than European counterparts.
Highlights of Averages
Alicante £119,050
Buñol £103,500 (Mid Spain on East Coast)
(25 miles from Valencia/tomato throwing festival)
Andalusia £100,000 (some areas )
Martos £34,000 (cheapest in Spain : Mid South)
Canary Islands Tenerife at £200,000 (some areas )Costly
Coast west of Malaga over £750,000
Parts of Palma and Ibiza £1m plus
ORIGINAL ARTICLE 30 MARCH 2016: http://www.telegraph.co.uk/property/abroad/mapped-where-to-find-spains-cheapest-property/