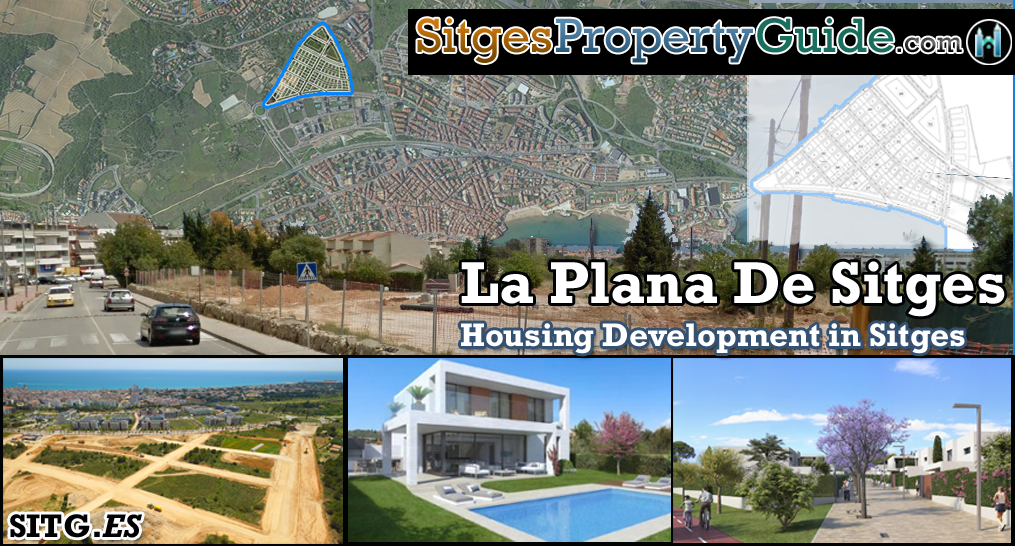 It appears that the council 'moved the goal posts' recently and took 70% of the land.
Along with a plan to restrict tourist holiday rentals in the newly formed area (read more…).
La Plana
650 official protection apartments (social housing units) out of a total of 1,600 planned


(10% of the land 32,690 m2 E

astern end of the area, near 

La Bóvila

)
An aparthotel with 90 apartments (not being sold)
80 300sq ft family houses, with own garden
plus a communal pool & garden area for 900,000 euros.
Or buy a plot and build your own home (60 belong to Vertix)
Commercial premises
Parks & facilities
Information
Urbanization of 23 hectares.
Catalan developer Vertix owned land for ​20 years​
Urban plan costing 6 million euros, approved 2007, ​​​
but crisis stalled development​
​​Catalonia has many unsold homes
Though demand has returned to Barcelona and Sitges
Sitges 3,779 euros per square meter
Felix Massot owns 60% of the land to be developed
(invoiced 50 million euros in 2016)
Small selection of owners own the remainder

Builders: Thomas Gracia S.A Construction
One​ of​ few Catalonian real estate developers ​to survive

​R​educe workforce to 45 people​ (re-recruiting now)​

​Reduced other expenses​ ​(level of sales promotion​)

​Reduced building to ​150 new flats per year​ (plus 1 building to keep in Portfolio)​

D​evelopments were ​

80% bank 

​financed Vertix will keep the aparthotel

, to 

rent out ​​as apartments, ​​via​ third party. Demand may be high, if the council manage to prevent other owners, renting theirs. (Previously kept : AC Hotel Sants in Barcelona and ACHotel Gavà Mar (Baix Llobregat)Also active in:
– El Prat and Viladecans (Baix Llobregat) where they detected 'demand for new homes'
– Barcelona streets with potential i.e. Calle Lepanto (102) and Marina (357)
The Partial Plan of La Plana Est is located between the railway (south), the extension of the Cami de Capellans and Avenida Sofía (north and west), and Avinguda de Vilafranca (East). It basically provides residential in isolated multi-family blocks, a large area of ​​facilities adjacent to Sofia Avenue and a large green area where the Can Robert Park is located.
POUM file
PARTIAL PLAN
Timely modification
Publications
Changes will have been made